He is an undisputed soundbwoy who is full-time musicologist, full-time fashionista/trendsetter, full-time crate digger and certainly a DJ whom other DJs aspire to walk the path of. Did I mention that part of his legend is being the first Hip-Hop artist signed to a record deal in the Pacific Northwest? Well, that's just another legend on a long list of accolades earned by Supreme La Rock.
Supreme La Rock is one of the DJs who you might catch at a local hot spot in Seattle one night and look up the next night and he's in New York, Chicago, LA or a foreign city. He's one of the DJs who loves to DJ and regardless the city, state, region or country – the party people have expressed their love for him – consensus. The consensus looks like this: 2016 Seattle Sound Music Awards DJ of The Year, 2009 Mighty 4 Award Winner, 2006 Seattle Mayor's Award for Excellence In Music, Seattle Weekly's Best Of… DJ and he's one of the featured DJs at the world famous Adidas Originals Do-Over parties. What more can I say (Milk Dee voice)?
Supreme's unfadable credibility dates back to the 80s as alluded to, but as a member of The Incredicrew, their single "King In Def Poetry" got them a buzz and Supreme has been getting busy since then. He hs serveds as label head of Conception Records, is a member of dope duo, The Sharpshooters and combines with fellow super-producer, Jake One to team up as The Con Men. Did you know the crate-diggin' master is also widely credited with the unearthing of Seattle's obscure soul and R&B past.
This crate-dggin' deed performed by Supreme La Rock during a visit to a Seattle record show in the $.50 cent bins, spawned a lot that you and your momma need to be thankful for. Upon discovering these Seattle soulful gems, Supreme approached boutique record label, Light In The Attic with a dope proposal that was accepted and spawned not only the compilation, Wheedle's Groove: Seattle's Finest Funk & Soul – 1968-1975, but also a documentary film of the same name featuring fellow Seattle legend, one Quincy Jones. Did I mention Supreme was the fly guy still rockin' dope shades in Sir Mix-A-Lot's 1988 video for "My Posse's On Broadway"? Do your research, Hiphoppas and on top of that, let's find out from the man himself – "Who's The DJ?"
1). When and how did you get interested in and become a DJ?
August 17th 1984 when I went to a concert and witnessed EZ Lee from the Treacherous Three rock two turntables.
2) Who was your mentor(s)?
Cosmo Vinyl taught me about records, Davy DMX showed me some scratch patterns when he came through town with Run DMC and I looked up to Mike Joyce and Frostmaster Chill who were the tops guys in town as far as i'm concerned.
3) Vinyl? CD? Digital? All or None of the above?
Vinyl to keep your skills sharp, Digital to be able to travel the world and be ready for any party on the fly. Never really rocked cds too tough.
4) Describe who you are and what you do as a DJ… Genre, style, etc…
I'm Supreme La Rock a true fan of the art form, music lover and professional party rocking' dj there's only two kinds of music, good & bad and I play them both.
5) I most admire…
DJs that do it for the right reasons and actually care about the art form and music. Lots of djs these days are fly by night hobbyists that want free drinks, girls and to look cool.
6) Favorite and least favorite changes in the DJ world…
Favorite thing is the job it self when it's good it's very rewarding least favorite is the politics and process of bookings a lot of venues will book whoever without ever hearing them play or checking their history/resume.
7). My most memorable music moment is…
DJ'n the Seahawks Super Bowl victory parade the biggest party in history the city of Seattle has ever seen over half a million people in attendance.
8). A DJ must…
Read the crowd and be prepared. Never play for yourself your there to rock the party for the people.
9) What is on your playlist right now (5 items)
1. Yussef Kamaal "Lowrider"
2. Darkest Pumpkin "That Feeling"
3. Sly Dunbar "Don't Stop the Music"
4. Tuxedo "Special"
5. Honey Sauce Band "Boy Toy"
10). Favorite crowd, event-type and city to DJ…
Best crowd is at Motown On Mondays at Bar Sue week in and week out they come in and dance from beginning to the end, best events are special one off's and best city to DJ in is Chicago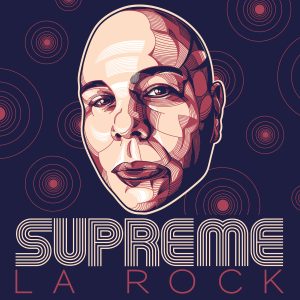 11). I am…
Supreme La Rock often referred to as a DJ's DJ – Father, student of life and the best person I can possibly be. Follow me on all social media @supremelarock and check me out on KUBE 104.9FM Every other

Saturday

Night or check the "Can You Dig It" Podcast –
www.supremelarock.com
–
www.supremelarock.blogspot.com
–