Biggie once rhymed… "Recognize a real don, when you see one…"  Gregory 'DJ Funk Daddy' Buren is one such figure in the world of music.  The Seattle, born and bred MC/DJ/Producer is known within industry circles as a long-time factor, he is known by party people as one of the premier 'party-starters' and is a go-to-guy when it comes to putting together good shows, programs and projects… He's simply one of those people who is a factor with supreme humility.  You might not know it all… So here's a dose.
DJ Funk Daddy's reign as one of the best in the Pacific Northwest is decades true, however his name and game extend far beyond the region.  As a producer alone, he has platinum and gold plaques and credits for his production with Sir Mix-A-Lot and E-40, he has produced and worked with the likes of Mac Dre (RIP), N2Deep, Daz, D12, B-Legit and more – along with credits for television work on former ABC show, Dangerous Minds, as well as work on films, Three Strikes, Rhyme & Reason and Street Racing.  His mixtape game is also second to none, having produced and distributed masterpieces of mixology since the 90s and into the 2000s.
He also produced himself as a vocalist on a slept on project for Dog Day Records, called Crooked Path.  I also had the pleasure of watching him teach 'The Art & Culture of The DJ' at The Students of Color Conference in Yakima, Washington a few years back.  The man who was named 1999's Best Club and Mixtape DJ at the Northwest Music Awards, who led the mixshow movement at KMIH 104.5 FM (before it folded), who won The 2015 Lifetime Achievement Award at The 25360 Awards and whom is still active and a factor sat down with Seaspot to put it in the ear of those who keep asking, "Who's The DJ?!"
1) When and how did you get interested in and become a DJ?
Listening to music I loved to hear the DJ's cutting it up as well as when I worked with producing groups, we needed a DJ to complete the music. Since I didn't know any at the time, I forced myself to learn how to scratch.
2) Who was your mentor(s)?
If you mean who did I learn the most from, it was the groups I grew up listening to. Grandmaster Flash, Jazzy Jeff, DJ Cash Money Sir Mix-A-Lot, Joe Cooley, etc. DJ Punish showed me a lot on 2 turntables, DJ Skill and DJ Ace made me step my game up.
3) Vinyl? CD? Digital? All or None of the above?
Serato Vinyl is my favorite currently. Original Vinyl used to be my favorite
4) Describe who you are and what you do as a DJ… Genre, style, etc…
I'm DJ Funk Daddy, I used to rap back in the days as well as I still produce artists and DJ parties (big and small). I've rocked arenas as well as small bars. I love to play rap and R&B (especially from the 90's to 2000). I always loved the tricks DJs do and the creativity involved.
5) I most admire…
DJ's who are NOT arrogant, down to earth and put on a show.
6) Favorite and least favorite changes in the DJ world…
I loved the changes Serato brought to the DJ world. It pretty much gave us access to almost any song, the records would no longer get scratched or 'winded', easier to work on a DJ, easy to video DJ, etc. Least favorite changes are also Serato (lol). Now as DJ's we can't say we don't have a certain wack song because….we probably do have it in our computer. Also thanks to Serato, everyone thinks they can DJ as long as they have a computer.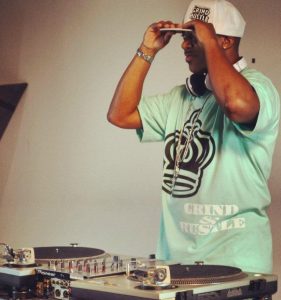 7) My most memorable music moment is…
Not related to DJing: Producing E-40, Mac Dre, N2Deep and Sir Mix-A-Lot.  Related to DJing: Winning Seattle DJ contest and CITR DJ contest.
8) A DJ must…
Have fun and get everyone to dance (unless they're watching the DJ to tricks…hahahaha).
9) What is on your playlist right now (5 items)?
Kendrick Lamar, Drake, Big Sean, Young MA, Nipsey Hussle and (bonus) Old School.
10) Favorite crowd, event-type and city to DJ…
Favorite crowd:30 and up.  Favorite event type:Hip Hop/RB smaller events.  Favorite city to spin: Seattle (of course) and Yakima/Kennewick, WA.
11) Residencies? Projects? Upcoming gigs/events?
Ladies Night Out DJ (wherever city they go Deezy ENT DJ EMP/Mo Pop DJ every Halloween and New Years Eve -upcoming show at Clearwater Casino with RB group 112 July 4th in Suquamish, WA
12) Radio in 2017 is:
Non-existent button pushers.
13) The BEST radio station ever is/was?
KFOX when Nasty Nes and Mix-A-Lot were on the air but KTOY in Tacoma may also be tied.  Mix-A-Lot and Nasty Nes would cut it up and tell jokes as well as break new music local and out of state.
14) The best live performance by a DJ was…
DJ Diamond when EPMD came to Seattle. He was flawless. Kid Capri when he came to Seattle. Rocked the crowd the whole set. DJ Jazzy Jeff when he came (everytime).
15) I am …
All over the place.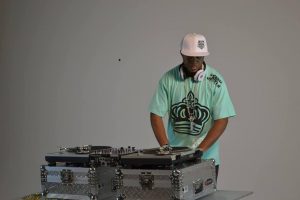 Thanks.
www.funkdaddy.com https://www.facebook.com/funkdaddyofficial Twitter: @funkdaddyreal Instagram:funkdaddyofficial
#WhosTheDJ
#WTDJ
Seaspot
Curated by Jose S. Gutierrez Jr.