Today one of our most recognizable comedians and household personalities from television, Thomas Mikal Ford, most notably 'Thomas 'Tommy' Strawn' from the Martin Lawrence-led 1990s sitcom, Martin passed away, reportedly from complications of an aneurysm.
Conflicting and premature reports of Ford's death were circulating earlier during the day, notably with comedian, Anthony Anderson, providing heartfelt condolences, under the incorrect understanding that Ford was deceased.
As a reporter, I was notified at approximately noon (PST) by an associate, that Ford was in critical care at an Atlanta medical facility and approximately three hours later, Seaspot was notified of Ford's death.
Ford, although not necessarily a personality with fame of last names like Murphy, Pryor, Fox, Lawrence or Harvey – is a staple in the world of comedy and played in memorable roles and played key roles in the television world of comedy.  Referred to as 'The Pope of Comedy', Ford acted on A Different World, The Parkers, The Jaime Foxx Show, New York Undercover and was a co-host/judge on Bill Bellamy's Who Got Jokes?, airing on TV One.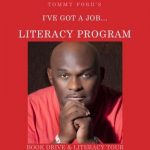 Ford's most memorable and fame-inducing role was starring as the brilliant, sensible, charming, handsome and gentlemanly unemployed homeboy of Martin and Cole, Thomas Strawn, on the sitcom, Martin – still airing at full strength in syndication in dozens of markets in the United States and overseas.  The scene stealing Ford exemplified the meaning of physical comedy, impeccable timing, undeniable charisma, mystery (Martin Lawrence only in 2016 revealed Tommy Strawn's Job – he was NOT a stripper and did not work at 900-Freaky-Deak or at Got-The-Drawls Hotline) and exuded wisdom and sensible advice for his great friends.  Apparently, Tommy worked as a social worker for children and youth – part of this was hinted at during the Christmas episode where Tommy arranged Martin to dress up as Santa Klaus and when Tommy had Martin and Cole come to school for career day in Ms. Trinidad's class.  The memories are endless.
Key is also, Ford's depiction as 'Tommy Smalls' in the classic star-studded comedy, Harlem Nights, featuring Eddie Murphy, Richard Pryor, Redd Fox, Robin Harris, Miguel Nunez, Charlie Murphy, Arsenio Hall, Jasmine Guy and Danny Aiello among othere.  This was a short but impactful role for the man with the unforgettable loud-as-the-room laugh.
Tommy's role is still applauded and celebrated online via memes, posts and pages on Facebook, like Martin Quotes.
On a more personal note, many of us loved and adored Thomas Mikal Ford's work and love, respect and peace are given in his name and on behalf of The Seaspot family to his family, friends and fans/supporters.  He made a major impact and willl be sorely missed.  Memorials and comedic tributes are being scheduled as this report is published.
Seaspot
Jose S. Gutierrez Jr.