While on the High Road Tour 2016 one can expect a lot of things – dope west coast classics, Wiz Khalifa's bangers as he takes the torched spliff from Snoop, great openers with Kevin Gates and songstress Jhene Aiko and most notably – a contact high; especially if you find yourself at the Colorado or Washington dates – as I found myself at The White River Amphitheatre near Auburn, Washington –  home of the great Muckleshoot Tribe.
As the sun b    egan setting the melodious tones of Jhene Aiko brought the crowd to their feet as her heartached voice and inspirational lyrics rang through the countryside, followed by the hard-hitting, though-provoking lyricism of one Kevin Gates.  Gates known for his contradictory words, encompasses the myriad of emotions, lyrics and subject matter – always with a final uplifting message to close the show; this show was no different.
However, the obvious draw was saved for last.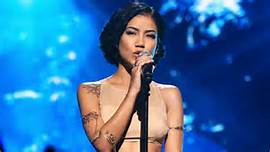 Not knowing the format, party people – including myself were wondering who would close – Snoop or Wiz?  We are at the stage in each artist's where Wiz could actually close or Snoop could – it is almost the time for full transition where Wiz is growing into a megalomaniacal super star and Snoop – although showing no signs of slowing down, has seen the apex of his career in terms of sales and popularity.  However, great artists transcend the mortal expectations of this world and that is what Snoop and Wiz did – together.
Taking back and forth sets in approximately ten minute increments, Snoop and Wiz trades the stage with their dozens of hits and some new songs.  The jam packed crowd was treated to all of their hits from Snoop's catalog as well as Wiz's.  "Drop It Like It's Hot", 'What's My Name", "The Next Episode" to "Get On My Level", "See You Again", "Black and Yellow" and many more.  From passing human sized blow-up joints through the crowd to interspersing inspirational messages, Snoop and Wiz's two-man show was a creative surprise as no one artists took top billing – proving that two major names in the game can effectively share a stage and rock a crowd of thousands.  Don't miss the tour when it hits your town.  Snoop and Wiz love Washington for more than the sticky-icky-icky… Oohwhee!
Jose S. Gutierrez Jr.