By Omari Salisbury
There is an old saying that opinions are like, well you know, and everybody has one.  Well these days it is getting easier and easier for those who are opinionated amongst us to spread their message via podcasting.
Podcasting is a new thing for this writer perhaps because I have spent most of my career on broadcast radio I always looked at podcasting as just for the guys who couldn't make it on air and for years I think this was the case and I would get links for the most random shows with the most awkward of guests who sounded horrible.  It only took me downloading a few podcasts some years back to promise myself I would never venture down that road again.
Then something interesting happened that has totally changed my view on it.  As soon as I came back home to Seattle (I have been living overseas for the past decade) I had two interview requests for local podcast shows.
So I figured why not and I was a guest on Say That Then which is a pop-culture/current events show hosted by EC Parker and Melle Montana and two days later I was a guest on Can You Dig It?, which is a music industry show hosted by two Northwest industry heavyweights DJ Supreme La Rock and DJ Topspin.
After my experience on these two shows I thought I would give the world of podcasting a second look and I tracked down a few people who could give me the big picture in and outs of podcasting so I could share my findings with you.
According to Keith Ancker, the owner and executive producer of the SoundCasting Network, a Seattle based production house that produces and syndicates a growing roster of podcasts, the podcasting format is on the rise and he points to one specific incident that changed the way the industry views podcasting: when CBS Radio LA fired morning drive host Adam Carolla and changed formats from talk to music. It was the impetus for Carolla to jump into podcasting.
What makes it so significant was who Carolla is. He is a bonafide radio star, and when he made the switch to podcasting, it gave the platform a certain legitimacy it just didn't have before. It certainly doesn't hurt that he was resoundingly successful at it.
"Most people who've just recently become aware of podcasting as a platform might think Serial, the true crime podcast that had a lot of buzz last year, was the turning point in podcasting's move into the mainstream" says Ancker.
"But if it weren't for Adam Carolla, you can make a pretty good argument that there wouldn't have been enough people aware of podcasting to make Serial the hit it was. It really was a huge move, this was the first legit radio guy to jump into podcasting. It was like Howard Stern leaving terrestrial radio for satellite radio, it was that seismic of a shift" adds Ancker.
SoundCasting Network is the home of Say That Then and Can You Dig It?, as well as 6 other shows which range in topic from how to be a better drinker (I might need to check that out as I am always looking to become a better drinker) to shows on navigating the technology industry.
Another recent entrant into the local podcast ecosystem is Cloud Studios which just opened it's doors to the public just a few days ago. Cloud Studios is located on Chop House Row in the Capitol Hill neighborhood of Seattle and  I had the pleasure of touring the facilities during a launch event just the other day. Cloud Studios is basically an audio creative space with recording studios for bands as well as vocalists and one dedicated podcasting studio.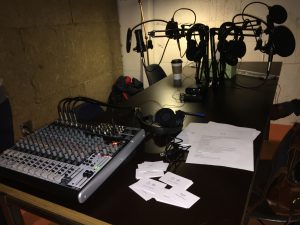 Cloud Studios is an audio offshoot of The Cloud Room, one of Seattle's newest shared work environments for artistic creatives. However, while The Cloud Room is exclusive and members only, Cloud Studios is open to the public and depending upon a podcasters level of expertise or desired finished product Cloud Studios offers on site show producers as well as audio engineers to assist even the most novice aspirational podcaster sound like a big time professional in no time.
So what are some of those industry secrets to creating a compelling podcast?  According to Joey Glocke, Podcast Producer at Cloud Studios, the first step is identifying your passion.
"You have to start with what you're podcasting about. There's two things to that. Number one, find a niche or something you love. Podcasts on general subjects like sports and politics are unlikely to find a passionate base of listeners, and will probably burn you out as well. Number two, you have to figure out why your listeners should tune in each week. What are they taking away from your show? It could make them laugh, teach them a new skill, tell human stories that help them better understand themselves, and on and on" says Glocke

Ok so you know what you want to talk about and you have a pretty good ideal of why listeners should tune into you every week but how do you go about recording your podcast? According to Glocke the barriers to entry are low but of course higher quality requires more investment.

"Once you know what your show is about, you have to make sure that you have excellent audio quality. Nothing exposes an amateur podcast faster than poor audio. Fortunately, you can get most of the way there at an affordable rate. All you need to get started is a microphone with a USB connection, headphones, and a computer with recording software. We started with Audacity, which is free. If you don't have access to a studio, record in your car. It's remarkably soundproof. This will get you going, but it's only part of the way to a professional show. To really set yourself apart, it's important to get into a real studio with high-end equipment and professional producers. The podcasts you're most likely listening to are recorded this way. The difference is noticeable" says Glocke
So now you are making moves you have the show subject matter, compelling content to ensure listenership, you have recorded your first podcasts but how do you get paid?  Let's go back to Keith Ancker on that one.  According to Ancker, whose company has had some good success with monetization, the key requirements to get paid in podcasting is good old fashioned hard work.
"Treat it like a business. Treat it seriously. If you don't put every effort into making a professional product and presenting it as a serious business, no one is going to believe that it is one. From how you talk about it, to how you pitch it to potential sponsors. You have to believe this is as serious as any other business venture. You also have a huge number of potential revenue streams, and while no single one is guaranteed to make you filthy rich, if you pursue all of them, you can see some good returns. Between show sponsorships, merch, premium paid content, live events and sites like Patreon, there are plenty of ways to start the money ball rolling. The other thing that is really going for podcasters is that to some extent the podcast advertising and sponsorship market is still the wild west. It's format in its adolescent years and there are no established, industry wide standards as far as how much to charge for what. Some deals are based on download numbers, some are based on subscriber count, some are based on hype, so don't be afraid to tell people what you think its worth. The worst they can do is say 'no'" says Ancker.
So for all of those super opinionated out there that always have something to say welcome to the wonderful world of podcasting and you never know with a little help from SoundCasting Network or Cloud Studios you very well might be on your way to earning a few coins for sharing your thoughts with the world.
As for me I can say that I am more of a fan of podcasting (and Jameson) today than I was just one short week ago and that Podcasting seems like a viable media platform that is definitely on the rise.
Cloud Studios
Studio rental starts at $30 per hour.
SoundCasting Network
Studio rental starts at $30 per hour
Say That Then Podcast Channel
https://soundcloud.com/say-dat-then
Can You Dig It? Podcast Channel