Ah, November! A month just for us fellas.  Wait, why is this month just for us? November is the month dedicated to men's health. My friends understand how much of an advocate I am about health.  Although I'm over-weight to societal standards I have started on my path of righteousness and wanted to see if this weeks blog could help you also. Back in DC I had a lot of motivation for getting fit.  At one point in my life i was almost 350 pounds at 5'10.  When I first started taking my health seriously I trimmed down to 220 pounds.
Since being here in Seattle I've seen very active lifestyles of many men. Running, lifting, walking, aerobics, and more can be seen from the CD to Shoreline and down to Federal Way. I've connected with the University of Washington's Men's Health Center.  In a discussion with a male fertility doctor (yes I am thinking about having one more child) I asked about general male check ups.  I was given a list of screenings that I should constantly check to ensure I'm in good health.
Blood Pressure
Cholesterol
Diabetes
Dental
Eye
Immunizations
Infectious Disease
General Physical Health
Testicular Health
As easily as this information is given, I decided to go around and ask other men about their health.  Some of the information that I received startled me, while other men were surprisingly in great health.
"A successful day is me understanding what my body needs.  I can't feel a pain and not do anything about it.  So I do everything about it." says a patient at the UW Men's Health Clinic.  "I use to go years without seeing a doctor.  I would go without seeing a dentist.  I would even try to fix myself when I was I was hurt. But then I got a real bad feeling in my back and it brought me to the emergency room.  I had sciatica.  Every since that day, I've been checking on my body."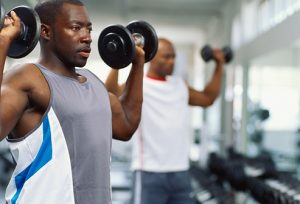 For a little period in my life I didn't understand the true reason about staying on top of your health but when I was diagnosed with High Blood Pressure (HBP) I started becoming more aware.  It's a shame that for most of us it takes something life altering to do something about it.  It's even more a shame when we know about it and do nothing about it.
This November, I plan to participate in free screenings and I would like to give all the fellas out there a little bit of that information to help you out as well.
Men, Movember is meant for us to enjoy and relish in the light of our health.  Our health is important.  Share this blog with another man today.  Don't fall victim to the stigma of pride and find yourself in a situation that you could have prevented.  Step up and help yourself so that you can always be the man you want to be inside of your own skin.