Community to Celebrate and Kick Off Construction of Inclusive Development
Seattle, WA — Africatown-Central District Preservation and Development Association (Africatown), the Black Community Impact Alliance (BCIA), Capitol Hill Housing (CHH), and Centerstone announce the groundbreaking ceremony on Monday, June 19th – Juneteenth – at 4:00 PM for the Liberty Bank Building located at 2320 E Union Street.
The Liberty Bank Building has been hailed as a template for inclusive development for the one-of-a-kind memorandum of understanding between the partners to use the development of the site to address gentrification and displacement head on and maximize empowerment of the African-American community.
Commitments include: a pathway to ownership of the building for the community, maximization of participation of Black subcontractors in construction, working with the community to identify local Black businesses as commercial tenants, an innovation fund to support local businesses, creating a building that represents African-American design sensibility, and commissioning nine artists to create installations that honor the legacy of the historic Liberty Bank and the history of the Central District.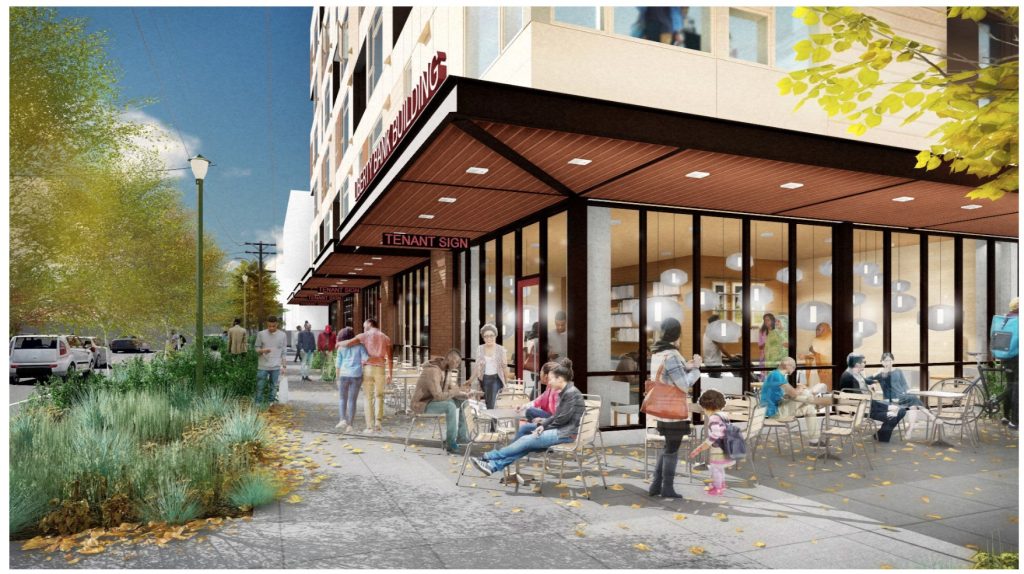 The groundbreaking ceremony and celebration will take place on Monday, June 19that the project site (2320 E Union Street) at 4:00 PM. Entertainment will include performances by Northwest Tap, DJ Kun Luv, and family-friendly kids activities, such as face painting. Ezell's Famous Chicken and That Brown Girl Cooks will both be catering the event.
The formal program will begin with the blessing and a pouring of libation by Marcia Arunga, a singing of the Black National Anthem, and an Ethiopian Coffee Ceremony. In addition, there will also be a preview of the artwork from nine artists that will help bring the Liberty Bank Building to life. Special guests will include the partners and funders behind the project as well as local officials including Mayor Murray, King County Councilmember Larry Gossett, Sen. Rebecca Saldaña, and Rep. Eric Pettigrew.
In addition, there will also be a preview of the artwork from nine artists that will help bring the Liberty Bank Building to life telling the story of the original Liberty Bank and the Black experience in the Central District.
Liberty Bank was founded in 1968 as a community response to redlining and disinvestment in Central Seattle. The founding of Liberty Bank was a key milestone in the progress of the African-American community, and it provided much-needed financial services until 1988.
When completed, the new Liberty Bank Building will provide 115 affordable homes for people earning between 30%, 50%, and 60% of the area median income (between $20,200 and $57,600, depending on family size). The units will be a mix of studios, one bedroom, and two bedroom units. Construction is anticipated to finish in September 2018. More information can be found at LibertyBankBuilding.org.