Date
Jun 25 2023
Expired!
2023 Seattle Pride Parade
Join us for the 2023 Seattle Pride Parade taking place on Sunday, June 25, 2023 from 11:00am–3:30pm.
The Parade route will again run downtown Seattle along 4th Ave, between Pike St and Denny Way. This LGBTQIA+ reunion is a free, fun, community-wide celebration advancing awareness of LGBTQIA+ issues and promoting mutual respect and equal human rights for all. RSVP for reminders & event updates (RSVP is not required to attend)!
PARADE FEATURES
The parade will feature the participation of some of Seattle's most beloved community groups, civic leaders, brands and businesses. The parade route will feature three stages, two alcohol gardens, food trucks, grandstand seating, and ADA priority seating.
Feature Locations:
Westlake Park: Stage, Alcohol Garden, Food Trucks, Grandstand Seating, ADA Priority Seating
4th & Lenora: Stage, Alcohol Garden, Food Trucks, Grandstand Seating, ADA Priority Seating
4th & Denny Way: Stage
You can view our Accessibility Guide for more information on our event.
For more information about Seattle Pride's 49th annual Pride Month celebrations, visit SeattlePride.org/Seattle-Pride-Month
Get Involved: Volunteer sign-up is open! Click here to learn more about volunteer opportunities!
SEATING
Grandstand seating is bleacher style seating available for purchase in advance. Sit down and enjoy the parade from the front row!
ADA Priority Seating is available to those with accessibility needs (and two other individuals in their group, regardless of accessibility needs). These seats must be reserved in advance.
Reparations Model
BIPOC attendees can use promo code " STARDUST " for a 50% discount – input at the top of the next page. Seattle Pride does not assume BIPOC attendees do not have access to wealth; it is our way of working to address the historical and ongoing damage to the Black, Indigenous, and other communities of color.
2023 Seattle Pride Parade Map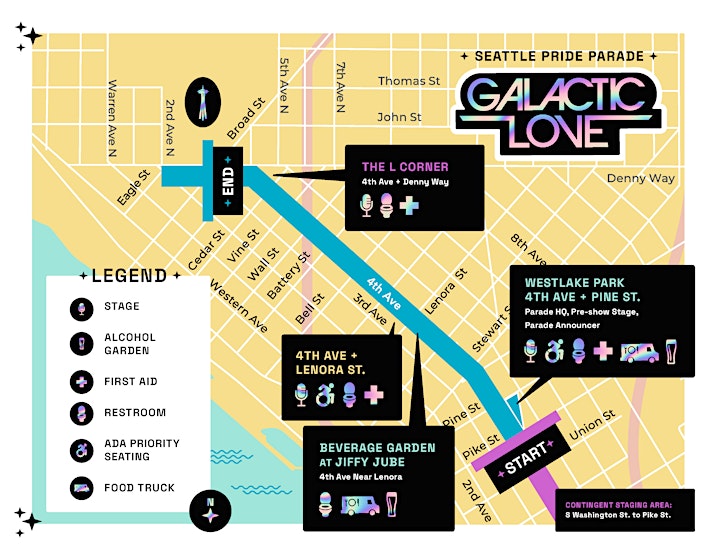 ABOUT GALACTIC LOVE
Seattle Pride's mission to create unity, honor diversity, and achieve equal human rights is going interstellar. Our 2023 theme is GALACTIC LOVE is an invitation to celebrate LGBTQIA+ folks' right to thrive. In many ways, our ancestors lived in the future – their stories, bodies, and truths burning like stars, giving us constellations to love ourselves (and each other). Our theme isn't just a celebration of our community's resilience, it is a beacon to remember those who have come before us and a CALL TO ACTION to protect a shared future for those who come after us.
Local Time
Timezone:

America/New_York

Date:

Jun 25 2023

Time:

2:00 pm - 6:00 pm