Every now and then, some of us are forced out of the fast food lane and into the kitchen to do more than 'add water until boiling'.  Hip-Hop veteran DJ and trained professional chef and executive chef, DJ Budget Money aka Evan Pillar of Portland, Oregon strolls into the Seaspot kitchen to give us all some tasty samplings of food and how-to-make-it… So, for this installment an always flavorful breakfast (lunch or dinner, for the 'hongree' among us), dish – Biscuits & Gravy.
Biscuits N Gravy
prep 20 min
cook 30 min
ready 50 min
Ingredients: Biscuits:
2 cups flour all-purpose
4 teaspoons baking powder
1 tablespoon white sugar
1/2 teaspoon salt
1/2 cup shortening
1 egg, beaten
2/3 cup milk
1 tablespoon butter, melted
Ingredients: Gravy:
1 (16 ounce) package bulk pork breakfast sausage example (jimmy dean) your choice
1/4 cup butter
1/4 cup flour all-purpose
1 (12 fluid ounce) evaporated milk
1 1/2 cup water
salt & pepper for taste
Direction:
preheat oven to 400 degrees and grease a sheet tray
whisk flour, baking powder, sugar and salt into a bowl; cut shortening into flour mixture w/ a pastry cutter until crumbly.  Mix egg & milk till incorporated.  Turn dough out into a well-floured work surface and knead for a minute.
Roll dough to a 3/4 to a 1 inch thickness, cut with a biscuit cutter, and place onto a prepared sheet tray.  Brush top of biscuit with the melted butter.
Place into your preheated oven at 400 degrees about 8 to 10 minutes or until golden brown, check it about 6 minutes real quick some ovens heat differently.
As biscuit is cooking cook your pork sausage for 10 min till it's crumbly and cooked through.  Drain the excess grease from the pan, if a little left its ok.  Now add the butter until it has melted in the pan.  Add the flour until it has combined and gets clumpy, the flour will clump up from the butter and any excess grease.  Add the milk and water to mixture, now bring it to a simmer and lower it to a low heat let it simmer for about 5 min till thickens.  Now you can add your salt and pepper to your preference.  Set aside let it sit to complete it's thickens process.
serve on top of your biscuits and enjoy.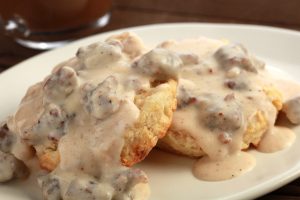 DJ Budget Money is an artist and chef, who is a native of Portland, Oregon.  Playing various venues and all types of genres of music, Budget is accustomed to mixing flavors of all kinds.  He is 'about the experience' of moving people, both on the dance floor and in the dining room, applying skills attained over more than two decades as a musician and culinary artist.