A Creative Option
By Omari Salisbury
omari@Seaspot.com
So what would happen if there was a super modern and exclusive work space dedicated to non-tech creatives that was comprised of some of Seattle's most distinguished artistic agents of change? What you would have might look a lot like The Cloud Room.
The Cloud Room is located on 11th and Pike in the Capitol Hill neighborhood of Seattle also referred to as Chop House Row by the locals and is one of Seattle's newest shared creative work spaces.
According to their website, The Cloud Room Seattle provides a shared working environment and private member's club that is enriched by the people who occupy it or as the General Manager Jennifer Peterson likes to say "a space curated by people who effect change and cross pollinated by those who develop ideals and others who can execute them".
I know what you are thinking, Seattle is full of shared workspaces and incubators so what makes the Cloud Room so special? It is true the Emerald City is dotted with innovative creative spaces and collaborative work environments.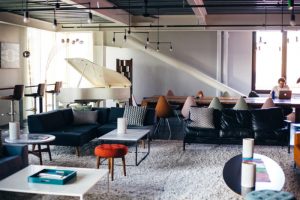 However what separates the Cloud Room is the community.
This member's only space was launched with the 60 Stranger Genius winners as the original anchor members and all new members required a referral from one of the geniuses as well as a thorough vetting from Peterson and her staff.
By the way if you are like me and were not aware of what a Stranger Genius is, every year since 2003 The Stranger Newspaper has awarded five artists from across five categories (visual art, film, music, literature, and performance) whose work they found to be risk taking and exceptional.
So this means that The Cloud Room has literally stacked the deck full of some of the region's most creative minds all who are members and many of whom frequent The Cloud Room often which of course is a key driver of the overall creative energy in the space.
This membership and vetting process has ensured that the creative community at the Cloud Room is very select. The cost of about $600 for a private work surface down to $300 for shared areas also ensures that members have the financial means to invest in their own success.
Before you get to thinking that The Cloud Room is just for big time, award winning, upper echelon creative minds, Peterson is quick to point out that the collective Cloud Room community is big on developing new creatives despite of their ability to pay or their level of notoriety in the city and this is why Peterson launched the Cloud Society Membership which is basically an individual membership for those with awesome potential but limited resources. According to Peterson the Cloud Society Membership is offered via all nonprofits in Seattle.
In regards to layout, the Cloud Room is stunning. This writer has been to many creative labs around the world the past few years including my last stint working in creative spaces in Dubai and what I can say for sure is that the Cloud Room totally nailed it.
The Cloud Room is the perfect mix of workspace (desks and surfaces), meeting rooms, lounge, restaurant, West facing deck area, piano, and even a full top shelf bar. Yep, nothing gets those creative juices flowing like a few vodka and tonics, well at least it does for me.
The Cloud Room is definitely a great place for non-tech creatives to be among like minds in an environment designed to foster and propel agents of change.
For more information –
Jen@CloudRoomSeattle.com
www.CloudRoomSeattle.com