The Universal Zulu Nation has undertaken some immense public challenges and accusations in the past year-plus, and with such scrutiny in internal change at hand, it is refreshing to see that some of the true AmaZulu steady-represent the pillars of Peace, Love, Unity, Having Fun and Knowledge and overall, service.  The 206 Zulu Nation of Seattle has never stopped doing what it is this world-renown chapter has done since its inception in 2004 and 2005… Serve.
The annual Boogie Up The Block block party is a testament that the party people are still here and representing the tenants of unity, community and a good time with this year's BUTB featuring a 'Kids Corner' for young people with a bouncy room, giant chess, giant jenga, face painting, dominoes and more – a refreshing reminder that The Zulu Nation has been a historically trusted organization within many communities in matters of overseeing children and providing them with guidance, security and encouragement to be active.  Also, to go with the all-ages and family-friendly operations, there will be food, art exhibitions, dancing, music and performances on a reportedly new and bigger stage than in past years.  We shall see what is in store.
Who is in store – or rather, on stage?  The 206 Zulu Nation and Hidmo Cypher, who is co-sponsoring and hosting Boogie Up The Block have a who's who of Puget Sound artists taking the stage, including: Silas Blak, Sword Scool, Fatal Lucciauno, Infinite, New Track City, Beats To The Rhyme, DJ Bizzon, DaDaBass, Yirim Seck, Mojo Barnes, Ear Drumz, B-Boy Fidget, Zac The Barber aka Zeta, Neebor, Sean Lee & more to come… Of course some Zulus and Hiphoppas in the crowd might show up and light the stage up – you never know at a reeeeeeeal (Prodigy voice) Hip-Hop show.
One of the more exciting opportunities for block party-goers will be the hosting of the 'Off The Wall' graffiti competition that was last year held under the name of 'Keep It Fresh' – it will this year revert to its original title under supervision of The 206 Zulu Nation.  "It's going to be dope – we have the writers coming at 7am, like last year and it's a about a 12 hour competition again with writers coming from all over the region and farther", said King Khazm, former head of 206 Zulu and its founder.  Last year writers in the competition came from Vancouver, BC, Vancouver, Washington, Portland, Yakima, Tacoma, Seattle and more remote locations.  The art takes place on the Martin Luther King County Archive buildings which were once a drab faux khaki color.  No longer.  The 4×4 competition will award the winner with $500 to divide.
Luvva J at last year's graffiti contest… Meetin' and greetin'.
https://www.facebook.com/luvvajpimpizzi/videos/10153598654682665/?hc_ref=ARRpDpjrLZBi8poqzsYsKwNpX-SZQcxzdVbqL07ofDWwrorfRVkhp0MrA1uKMjtkT0I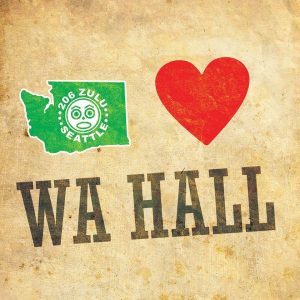 Additionally, from 4-10pm as part of the Ubunya Project, The Seattle Young People's Project is hosting the Youth Artist Showcase which will display the works in visual arts, poetry/vocal and film of young people in the community.  One of the biggest events of the year is always in the capable hands of Zulu Queen, Kitty Wu and a strong team of staff and volunteers who make this free event available in Seattle's historic African-American community, The Central District, which conveniently connects with the international district.  Boogie Up The Black takes place Saturday August 19 – all day at Seattle's historic Washington Hall.  For more information, log on to the Boogie Up The Block event page on Facebook, provide below.
https://www.facebook.com/events/1780445268933208/
#BoogieUpTheBlock #OffTheWall #206Zulu
Seaspot Staff